MAHARAJA GANGA SINGH UNIVERSITY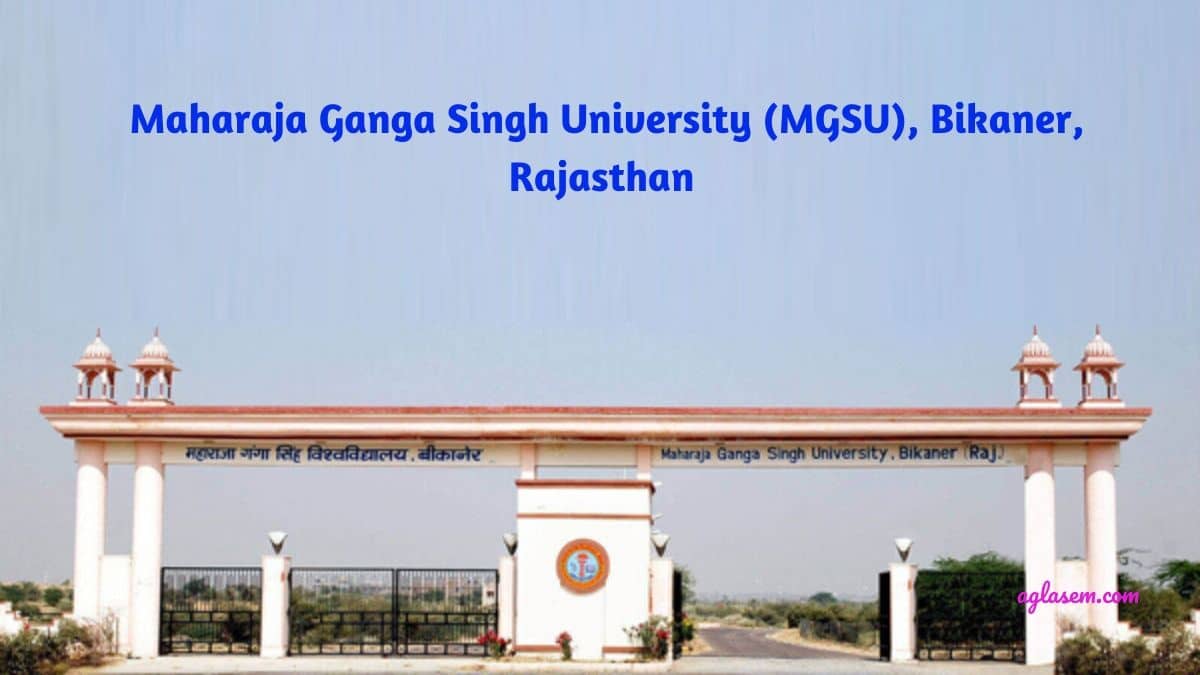 Maharaja Ganga Singh University was formed under the University of Bikaner act 2003 and it officially got the recognition as a University in June 2003. The aim behind the start of this university was enhance the Nation by improving the Education, Culture, Economy and environment through the medium of providing quality educational programmes and schemes. The university offers various undergraduate & Postgraduate courses and not just that it offers doctorate and professional degrees as well. There are 5 separate departments for a variety of courses which are mentioned below.
The university also provide scholarship schemes which are state sponsored scholarship schemes which can also be tracked through the PFMS scholarship portal as this is the portal which is responsible for all the Financial management of government schemes which includes various state and central sponsored scholarship schemes.
Department of environmental sciences
programmes offered under it are PG Diploma in Geo-informatics and Remote Sensing, M.Sc. in environmental science and PhD in environmental science.
Department of microbiology
programmes offered under it are M.Sc. in microbiology and PhD in microbiology.
Department of history
programmes offered under it are M.A in History (medieval/ archaeological/ Genealogy and Community History), M.Phil. And PhD in history.
Department of computer science
programmes offered under it are M.Sc. in computer science, M.Sc. in computer sciences with lateral entry/ cybersecurity and PG Diploma in computer applications (PGDCA).
THE DEPARTMENTS OF YOGA, LAW, GEOGRAPHY, LIBRARY AND INFORMATION SCIENCES
Department of English
programmes offered under it are M.A in History, PG Diploma in Translation, M.Phil. And a PhD in English.
MGSU Affiliated college's courses list
| | |
| --- | --- |
| Faculty of science | Mathematics, Geology, Biotechnology, Information Technology, Physics, Chemistry, Botany, Zoology, Defence and Strategic Studies, Pharmaceutical Chemistry, Microbiology, Computer Science, Biochemistry and Food & Nutrition and Environmental Science. |
| Faculty of Arts | Sanskrit, Rajasthani, Urdu, Punjabi, Philosophy, Music, Hindi, English, Drawing & Painting and Fine Arts, Physical Education. |
| Faculty of commerce | Economic Administration & Financial Management, Accountancy & Business Statistics and Business Administration. |
| Faculty of law | Diploma Courses, LL.B. and LL.M. |
| Faculty of social science | Home Science, J.V.J.V., Psychology, Sociology, History, Geography, Public Administration, Political Science, Economics, and Garments Production & Export Management. |
| Faculty of education | B.P.Ed., B.Ed. and M.Ed. |
For the full list of courses in the MGSU affiliated colleges we would recommend visiting the official portal of the college.
Maharaja Ganga Singh University is also doing its job in the field of sports as the university also provides opportunities to students to become a part of a variety of sports like kabaddi, weightlifting, basketball, baseball, badminton, chess, cricket, softball, yoga etc.
MAHARAJA GANGA SINGH UNIVERSITY Admissions and eligibility criteria
The basic criteria for admission in bachelor's courses is, candidate must have done his/her 12th class or high school from a recognised board. The requirement of marks depends on the course opted by the candidate which can be checked on the official portal of the university or the college. Postgraduate and PG diploma courses admissions are done on the basis of merit lists and the basic eligibility for it is that candidates must have completed their bachelor degree from a recognised university or board.
For Course wise admission procedure, we recommend students to visit the official portal of the university or the college.
MGSU ADMIT CARD & SYLLABUS
Admit cards for examinations are. officially uploaded on the portal of Maharaja Ganga Singh University. We don't think there's a need to stress on the fact that how important the document is for examination, so make sure to follow the steps given below and download your admit cards.
Visit the official web portal of MGSU by following this link..
Look for the examination tab and under it select the

"

exam form

".

A new page will open where he option for admit card will show up. Click on the option of admit card and fill in the required details to download your admit card. Practical exam's admit cards can also be downloaded through this method.
Steps to find the syllabus for all subjects are:
Visit the official portal of MGSU from the link given above.
Look for the courses and colleges tab and under it you will find the

"

Syllabus

" option. Click on the syllabus option and fill in your course and year then your syllabus will show up, now from there you can download it..
MGSU Results
The university publishes 2 types of results which are Main results, Re-totalling results their official web portal. To check your examination result of any course or year, just follow the step by step process given below.
From the homepage of the official MGSU portal look for the examination tab and under it students will get the results option.
Once you click on the results option, you will be redirected to a new page where option for results for various years will be given, from there you need to select the year of examination or the results.
Now you will be required to fill in some information like result type, your year/ semester of the course whether it is UG/PG and the class.
After filling in all the required details, click on the submit button and your results will show up on your screen.